Welcome to Cooperton Valley!
Lorene Funkhouser had her Christmas dinner and gift exchange Sunday.

Those attending were Steve and Glenda Funkhouser ans sons, Kevin and Lorna Funkhouser, Chad and Crista Funkhouser and Carson and Shon Funkhouser, all of Fletcher; David and Lee Beth Funkhouser and two sons, Dusty and Sherri Funkhouser and Clay of Hobart; and Will Funkhouseer and friend Christel Hines, Hobart. Eva Sparks also attended. Will and Christel are both students attending college in Weatherford.

_____________________________________
Having Christmas on Sunday with Ned and Betty Callen were their daughters, Elana Callen, Dallas, TX; Thesha and Matt Bellinder, Brooke and Sarah and Samantha.

Other family members attending were Delores Callen and Della June Liles, Snyder; John and Helen Blankinship and Billie Raines, Hobart; and Doug and Lisa Liles, Savannah and Madison.
_____________________________________
Paul and Delores Swanson had their family Christmas Saturday. Those present were Charlie and Mary Jan Swanson of Weatherford; their two sons, Chris and Ashley and two sons, Jake and Josh, of Wichita Falls, TX; and Clint and Lindsey of Tulsa.

Also attending were Polly and Stan Bredy and family of Gotebo.
_____________________________________
Having Christmas dinner with Justin and Phyllis Krehbiel, Kevin, Rebecca, Cynthia and Paul were her parents, John and Judy Krehbiel and Joe.

Tuesday morning Justin left for Tulsa to attend a school for his work. He will be there through January 5.
_____________________________________
Visiting Perry and Louise Smith Saturday afternoon were Leon Hampton and daughter Melissa of Piedmont. They had been in Mt. Park visiting his parents, Bob and Elnora Hampton and Joe.
_____________________________________
Ian Smith and his mother Sue Ann Cotton, both of Albuquerque, NM, spent about three hours with the Smiths. They were enroute to Frederick to visit Sue Ann's parents, Jack and Jarvis Peters.

Because of the weather coming in, they left at noon on Sunday. They reported they were ahead of the snow and ice, but had fog with low visibility from Memphis, TX all the way home.
_____________________________________
Lena Rutledge's guests Sunday included Jody Rutledge, Denver, CO; Dusty and Sherri Funkhouser and Clay and James Harris, Hobart; Joe Rutledge, David and LeeBeth Funkhouser and Will and his friend Christel Hines of Hobart.
_____________________________________
Paula and Johnny Block had their family Christmas Saturday evening. Attending were Darrell and Angela Block, Conner and Braden; J. D. and Pam Taylor and Chance and Glenna Miller.
_____________________________________
Merron and Geary McCormack and Ryan, Ardmore, came Sunday evening to visit her parents, Perry and Louise Smith.

Joining them Monday for Christmas dinner were Louise's nieces, Gayle Williams, Athens, GA; and Janet Williams, Nashville, TN.

Gayle and Janet spent Thanksgiving in Cleveland, OH with their cousin Bonnie Pickett and family, the Smith's daughter.

Odis Hopkins also visited in the Smith home on Christmas Day. It was his birthday, and Louise had made him a pecan pie for the occasion for a few years. Odis's wife Ruth had five bypasses December 19 in Lawton Hospital and is rapidly improving. She is in rehab and plans to be home before the new year.
_____________________________________
James and Betty Barnes family was home Sunday afternoon and evening for their annual Christmas party and gift exchange.

Attending were Joe and Anna Everhart, Kenneth and Kyla of Olustee; James Barnes and Bobby Roach of Tulsa; Justin and Phyllis Krehbiel, Kevin, Rebecca, Cynthia and Paul and Kendra Barnes of the home.
_____________________________________
Johnny and Paula Block, Darrell and Angela Block, Conner and Braden; Pam and J. D. Taylor and Chance, Liz Block and Clint all went to Hobart Sunday evening for the Block family Christmas in the home of Johnny's mother, Velma Noske.

Other family members there were Jack and Betty Broadus, Oklahoma City; Gayle Williams, Athens, GA; Janet Williams, Nashville, TN; Brent and Karen Johnson, Oklahoma City; Sharon Carter, JoDessa and Jaci and Jamie Block and Sydney, of Wichita Falls, TX.
_____________________________________
Douglas and Johnnie Sears went to Tulsa Saturday to spend Christmas with their son and family, Dr. John and Mrs. Jean Sears, Ryan and Alexis. Because the weather is so bad, it is uncertain when they can return home.
_____________________________________
Christmas was celebrated in J. R. and JoAnne Howard's home Monday with all their family, Terrell and Carla Howard, Woodward; Jay and Mandy Howard, Tristan and Kelcie, Altus; Gary and Brenda Haynie, Mickey, Laura and Carlee, Snyder; Phillip and Beverly Lile and Kevin and his friend, Tammy, and Lori Lile and Kamron.

Terrell and Carla came Sunday evening and spent the night with his parents.
_____________________________________
James Brand spent Christmas in Dallas, TX, with his son Mr. and Mrs. Max Brand and family.
_____________________________________
Larry Dean Riley, Mountain View and Mr. and Mrs. Lonnie Riley had Christmas dinner with their mother, Verdis Riley.

Donnie Riley, Cheyenne, came Monday evening and spent the night and Tuesday with his mother.
_____________________________________
Charlotte Story was able to return home December 18 after being in Hobart Hospital, Southwestern Hospital, and Lawton Memorial Hospital for three weeks.

She is slowly improving each day and glad to be home receiving calls from her friends and relatives.
_____________________________________
September 14, 2000: By Louise Smith

The descendants of R. H. and Sarah Elizabeth (Lewis) Miller held a reunion September 3 at Cooperton townhouse.

Those present were Verdis Riley, Lonnie Riley, Larry Riley, Donnie, Elizabeth and Dana Riley, Jonny and Naomi Parsons, Linda and F. O. Little, Courtney Elliot, Christopher Matlock, Bryan Morris, Sue Morriw, Lori Morris, Kyle Morris, Barbara and Bud Teel and Jennifer Teel.

Minetta Carpenter, Harold Miller, Alfred O. and Velma B. Miller, Gretta Miller, Mark and Cindy Miller, Douglas, David and Daniel Miller, Zita Mae Miller, Monty and Carol and Whitney, Ruth Miller, Devin Stubbs, Steve and Cindy Miller.

Sherry and Jared Jakuborski, Glenn and Dianne Garrison, Dakota and Schuyler Garrison, Joyce (Kyler) Brazil, and Herbert and Cornelia Bates.

---rc---

Laverne Ford recently flew to Tacoma, Washington, to visit her daughter and family, Betty and Larry Cox. Laverne spends her birthday there each year.

---rc---

Zita Miller, Oklahoma City, visited Glenna Miller Sunday afternoon. Olinda Coakley, Hobart, also stopped by for a short visit.

---rc---

Charlett Story spent Monday and Tuesday in Frederick with Teresa Stoneking and her mother Hallie Lile. Teresa had a docot appointment in Frederick Monday and one in Lawton Tuesday but she didn't feel like getting out in the 100 degree weather.
ALLEN LIKES REUNIONS, TOO

Allen Moore said, "Wasn't our Cooperton Reunion wonderful and well received? It seemed to Betty and me that it was thoroughly enjoyed by all. Does our age cause us to enjoy things like the reunion, more, or is it our roots? Either way, I list it as 100 percent pure fun."

And thanks to Joyce VanDerPol, I have a neat list of those present, or at least those who signed in. The memorial list follows:

2000 MEMORIAL LIST
JULY 1998-JULY 2000

Arthur Riley, Warren Potter, Juanita Moore, James Callen, Nancy (Unah) Tartsau, Roy Bay (Ike), Richard Mastain, (husband of Lena Mae Smith), Clarence Cox, Lloyd Long, (husband of Lottie Brand).

Tip White, Dwight Jennings, Jimmy Maddox (brother of Arlene Boyd), Richard (Dick) Cox, husband of Nova M. Henderson Cox, Ann (Faulkner) Gilbert, Ruby (Hawkins) Martin, Mary Wallace, (wife of Francis Wallace), Lillian Carter, Lena Mae (Smith) Mastain.

Mable (Krehbiel) White, Johnnie Mace, Lillian Carlton, J. V. (Arlen) Miller (father of Mary Ruth Henderson), Carl Adams, Mary Lee (Phillips) Hopkins, Lavonne (Mrs. Howard) Barker, Ola (Toland) Floyd, Dale Williams, Jack Rutledge, Alice Hopkins.

Dale Henderson, Barbara Anderson, Archie Pearce, Evertt Eddie Stauffer, Sid Callison (husband of Mary Helen (Fink) Callison, Thelma Glass, (wife of Lawrence Glass), Maurice Welch, Odelia Krehbiel, Monroe Lee, Jayne Riley, Madell (Marsh) Kopp (wife of Mousey Kopp).

Kenneth Funkhouser (husband of Lorene (Cox) Funkhouser, Hugh (Soche) Haley, Elaine (Perkins) Welch, Lozelle (Easley) Miller, (mother of Mary Henderson), Ida Belle Newton, Cy Hall Zotigh, Francis (Ladymon) Dennison (sister to Peggy Johnson), Edward Block.

Danny Martin, Betty Jo (Bay) Roach, Bert Smith, (brother of Wayne Smith), Virgil Scott, Theo (Bottom Smith) Scott, Bobby Wiggington, Ruth Schriener (Mrs. Fred), Jaspter Glen (Skip) Young (husband of Oleta Newton), Roy Williams, (husband of Goldie Smith Williams.

Josephine Dodd O'Pry (mother of Pat and Ted O'Pry), Lela (Glass) Burk (mother of Phil, Linda and Jolene), Jimmie (Moore) Bressman (aunt of Allen and Bennie), Etta (Moore) Brooks (aunt of Allen and Bennie), Leola (McCormick) Bunch, (daughter of Lloyd and Maude McCormick).

James Carpenter (husband of Minetta Miller Carpenter), Carol Jean (Tsoodle) Bear, (wife of William Henry Bear), Fern (Pierce) Askew, (wife of Jack Askew), Elsie (Hampton) Miller, Linda Perry, (daughter of Allen and Betty Moore), O. C. Edwards (former pastor of Cooperton Baptist Church), James Rains, Georgia Mae (Bleiker) Roberts, Lavern Cox, Finis O'Neal (former pastor of Cooperton Baptist Church.
ROOSEVELT/COOPERTON NEWS - Thursday, August 3, 2000

Fourteen youths from this community went to Falls Creek Baptist church camp. They left Monday and returned Saturday afternoon.

Betty Callen, Elana Callen and Rev. Doug and Glena Henson went as adult sponsors. Wednesday, Ned Callen, Brad and Sherri Webb and Breanna joined the group. Betty returned home with Ned Thursday and the Webb family remained and returned home with the group Saturday.

Attending were Amanda and Josh Henson, Joe Krehbiel, Paul Alonzo, Matt Alonzo, Ashlee Ford, John Tidwell, Alan Harthun, Cashen Urban, Rachel Gibbons and April Vanderpol.

They won first for Best Theme Interpretation on Ancient Disciplines - which path will I take - Heaven or Sin - based on Jeremiah 6:16. They brought home the banner, and it is hanging in the church.

------------

Rev. Douglas Henson made a business trip to Ardmore Thursday.

------------

Merron and Geary McCormack and Ryan, Ardmore, spent Saturday afternoon and Sunday with her parents, Perry and Louise Smith. Enroute home they visited Geary's parents, Keith and Jeannie McCormack in Frederick. Ryan remained for a visit with his grandparents.

Tuesday afternoon Merron returned for Ryan and Jeannie went home with them. Wednesday, Merron, Jeannie and Ryan rode the train to Ft. Worth and spent the day shopping and returned to Ardmore in the afternoon. It was the first train ride for Merron and Ryan.

-----------

Louie Meyers, Indiahoma, attended the Cooperton reunion Saturday. He visited his nephew and family, John and Judy Krehbiel and Joe before returning home.

----------

Sorry, Cat, I never got Cotton's trip to Alaska in the paper for you. Dee and I tried, but to no avail.

----------

Odie Lee and Debbie Hopkins, Tanner and Haylee and his sister and brother-in-law, Louise and Leslie Kendall, Cheyenne, left Saturday afternoon for Colorado to go trout fishing. They had a very enjoyable vacation and returned home Thursday evening. I heard that Tanner and Haylee were the ones who caught the most fish.

-----------

Visiting Perry and Louise Smith the past week were Ruth Hopkins, Barbara Lucas, Phyllis Krehbiel, Doug Henson, Kent Miller, Glenna Miller, Mary Buchanan, Charlett Story, Steve and Rozel Parsons, Annette Martin, Wynette Gahlgren, Ridge Lamarr, Treva Johnson and Nancy Reed.

Nancy baked a cake for Perry's birthday Friday and he shared it with those who dropped by. He got a few cards and several long distance calls wishing him a good day.

-----------

Doug and Johnnie Sears spent the weekend in Tulsa visiting their son, Dr. John Sears and his family. They attended the musical, "Babes in Arms," directed by Jean Sears. John was stage manager. Their grandchildren Alexis and Ryan had parts in the musical. The sears returned Sunday.

-----------

J. R. and Joanne Howard had all their children and grandchildren here last Sunday for a family reunion including Jay and Mandy, Tryston and Kelcie, Altus; Terrell and Carla, Woodward; Gary and Brenda Haynie, Carlee, Laura Jill and Mickey, Snyder; Phillip and Beverly Lile, Lori, Kamron, and Kevin, Roosevelt.
Click below to view the 1976 Cooperton Valley Reunion article.


MEN AND WILD-FIRE

High wind from the South
Tender-box dry
Prairie grass caught fire
And smoke filled the sky
Fanned by the wind
It headed northeast
Over hill and dale
Like a crazy beast

The call went out
And fire fighters came
But the howling wind
Made the fire insane
Back-fires were set
And fire-breaks made
It was man against flame
A true test of the trade
It knew no boundaries
It respected no one
Its breath much hotter
Than the blazing sun

Across flat lands
And thirsty creek beds
Fire out of control
Everybody dreads
Farmers and ranchers
All joined hands
Assisting the pros
As they made their stands
Flames climbed the mountains
Like a galloping horse
Went down the north slope
Where men were in force
With graders and trucks
And helicopters, too
A war staged by men
Who knew what to do

Sandwiches were brought in
And drinks poured up
It was coffee by the quart
Instead of the cup
The wind changed direction
The inferno went south
Licking and flicking
Like a tongue in its mouth
Everything in its wake
Burned, blackened, charred
It appeared that the rules
Was, no holds barred

Over the mountains again
Scorching the earth
The sight that it left
Was that of pure dearth
Fire fighters wouldn?top
Neither would they quit
They just bowed their necks
And took hold of their bit
The effort was team-work
They all pulled together
But, even at times
It was hell-bent-for-leather

They offered protection
For out-buildings and homes
Each member a worker
It was no place for drones
Big cedars exploded
Sending fire in the air
With heat so intense
That man would not dare

But little by little
The victory was gained
Yet the scene of destruction
Causes all to be pained
A display of folks
With nerves made of steel
They are a breed of their own
Showing courage unreal
Our hats are off
To each willing soul
Who braved the fury
The heat and the cold

So, to all of you
From us who stood by
An extra measure of thanks
Hold your heads up high
Now, twenty thousand acres
Is a darned big patch
May we all think twice
Before striking that match
It is only a token
As you are honored tonight
With the wild-fire dead
For all it?elight.

By Allen Moore

COOPERTON VALLEY
REUNION PLANNED

Students, teachers, and friends of the Cooperton community are invited to attend the 13th Annual Cooperton Valley Reunion on Saturday, July 22, at the Community Center.

Coffee and donuts will be served at 9:00 a.m. and a catered noon meal will begin at 12:00 noon, at a cost of $10.00 per plate. Reservations for the noon meal must be made by July 17.

For more information, call 580-639-2780, or send checks to Joyce Vanderpol, Rt 1, Box 79, Roosevelt, OK 73564.

**********

COMMUNITY SUPPER AT COOPERTOON

The bi-monthly Cooperton Community Supper will be held at 7:00 p.m. Friday, July 14, at the Cooperton Town House. Everyone is welcome to come and enjoy finger food, homemade ice cream, and good fellowship.

###############

SATURDAY NIGHT FEVER HITS COOPERTON

Regulars like Joe Foster and Chloe Wilson have been flocking to an old bus barn every Saturday night for 20 years to dance to live country music.

TWO-STEPPING TO MEMORIES



Couples enjoy the Saturday night dance in Cooperton.

Saturday night fever hits Cooperton

By Ron Jackson

COOPERTON - Out where the mesquite grows like a weed and where folks hunt wild boar just because, there's still a place where people go to celebrate life with all the fervor of innocent days gone by.

Getting there is easy.

Follow the western ridge of the Wichita Mountains along Highway 54, listen for the sound of Fred Bowman's fiddle, and if that doesn't work, ask any local you might pass, "Where's the dance?"

Don't be shy. No one is a stranger in these parts, especially in the slumbering town of Cooperton, where senior citizens have flocked nearly every Saturday night for the past 20 years.

They come for the classic country strains of the Wichita Valley Boys, the homemade German chocolate cake, the steaming coffee. And the dancing.

Mostly they come for each other.

"People come for the fellowship," said Della June Liles, one of the dance's dedicated organizers. "You get to see friends and visit. Some come from Elk City and Clinton and Altus. One fellow comes every Saturday from Hollis.

"That's a 90-mile drive."
The dance isn't free, although one could easily make a case against such a claim. Dancers pay $4 a head -- a fee that includes all the soda, coffee, cakes, pies, dinner dishes and dancing one desires.

"That's for four hours of entertainment," organizer Kenneth Boyd said. "It's happy hour around here every Saturday night from seven 'til eleven."

And a wholesome happy hour, at that.

Cooperton's weekly senior dances are smoke-free, alcoholic-free shindigs.

"My husband (Chub) and I have been coming down here for the past five years," said Frances McCracken of Apache. "There's no drinking, no smoking, no carrying on...just good, clean fun. We love it."

The McCrackens first discovered the Cooperton dances one Saturday night while driving along State Highway 54. From the highway the couple saw dozens of parked cars and bright lights coming from the old Cooperton High School bus barn.

The scene was quite shocking for a town that boasted a population of 17.

We thought there was a wedding or something going on," McCracken said. "A few days later we read about the dances in a newspaper. My husband said, 'Let's go.' So the next week we came to the dance.

"We've been coming ever since. We love it. These people taught us how to dance."

People like Dutch Cooper of Roosevelt.

Cooper, a retired farmer, has been dancing since he was 4 years old. In earlier days, he played baseball and softball with a passion, but has happily relegated himself to the dance floor the last 15 years.

Every month he attends at least five dances--four of those in Cooperton.

On August 31, the man everyone affectionately calls Dutch will celebrate his 92nd birthday.

"I enjoy it, enjoy getting my exercise," Cooper says during a break in the dancing. I'm 91 years old. I gotta keep a-going."

Cooper used to attend the dances with his wife, Annie, who died in December at 84. Annie loved to dance as much as her husband. She even danced with an artificial leg.

"Before she died," Cooper said, "she insisted I keep coming to the dances."

Boyd lives just south of Cooperton on a ranch that has been in his family since 1901. He has been at the heart of Cooperton's dances since the old school bus barn was renovated in the early 1970s.

He was there the day volunteer workers walked into the delapidated building. Pigeons roosted on unstable beams. Boards were strewn about the dirt floor. And some boards were nowhere to be found.

"You could say it was in a bad state of affairs," Boyd said.

But not for long.

Volunteers managed to spruce up the old bus barn with donated materials, including three truckloads of salvaged hardwood maple flooring from a Cordell gymnasium. Today, the maple floor glows beneath an umbrella of Christmas lights.

Deer antlers, large wooden wagon wheels, and headed mounts of a buffalo, a longhorn, an elk and a wild boar--all donations from Boyd's private collection--decorate the walls.

In addition, the dance hall pays homage to the town's past.

Old silver cups such as the one honoring the 1928 Cooperton "Base-Ball" team for its performance in the Ki-Wash Conference fill one large tropy case. Across the dance floor are pictures of Cooperton's graduating classes, which celebrated its last in 1965.

Another special feature is the hand-painted sign dedicated to Cooperton's World War II veterans. One hundred thirty-five names are listed, including two who never returned--Clarence Nash and Malvin Askew.

"This place is amazing," said Weatherford's LaRue Helzer, whose husband, Joe, plalys bass for the Wichita Valley Boys. "You have the whole history of a town right here in this building."

On the dance floor, meanwhile, visitors two-step to their own memories.

Regular Daphene Galloway of Rocky dances to the music while, on a nearby table, her video recorder tapes the proceedings.

"I like to watch the tape at home," Galloway said. "I like to watch the band and listen to the music."

Until next Saturday night.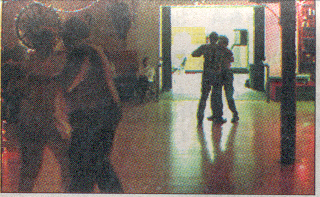 Cooperton Valley
September 21, 2000

Alfred and Pat Miller drove to LaGrange, Indiana, and spent a few days with her sister and brother-in-law, Ruby and Zeke Combs.

Pat reported that the weather was cooler, and they hated to return to our hot dry weather.

rc--------

Recent guests of Glenna Miller were her nephew and his wife, Phil and Pattie Biggart, Wichita, Kansas. They also visited John and Paula Block, Conner and Braden and J. D. and Pam Taylor and Chance.

rc--------

Charlett Story went to Oklahoma City Monday and sat with Rozel Parsons, Mountain Park. Rozel is in a coma, but seems to be improving as she squeezes their hands when they speak to her.

Charlett returned home Wednesday evening and will go back as needed.

rc--------

Verdis Riley has been in Lawton several days this week with her son, Larry Riley, of Mountain View. He is a patient at Lawton Memorial.

rc--------

Visiting Dorotha and Gerald Vanderpol Friday were her niece and husband, Wanda and Charles Evans, of Bethany.

rc--------

Betty Callen took Louise Smith to Oklahoma City Wednesday to keep a docotor appointment. They shopped and Betty treated Louise to a birthday meal a day early before they returned home.

rc--------

Thursday, September 14, Louise Smith's nurses came with a huge bouquet of fresh flowers, puzzle books and books to read.

On Friday Hospice of Elk City came with a large bouquet of balloons and a birthday cake.
COOPERTON REUNION
GUESTS 2000

Mark and Evelyn Faulkner, Doug and Mildred (Liles) Camp, Harold Miller, Eunice LaBerge, James Brand, Edker and Noveta Miller, Verdis Riley, Roma McKee, Edith Lester, Bernice Files, Louie Meyers.

Paul and Delores Swanson, Bob Williams, Weldon and Peggy Johnson, Buster Marsh, Al and Idella Hampton, Roy Groth, Alfred O. and Velma Miller, Opal Lunsford, Alfred (Ollie) and Irene Liles, Harold and Lora Lee Liles, Gene Terry, Della June Liles.

Stella Lou Shaw, Glen and Reatha (Browning) Adams, Vera Miller, Clyda (Lee) Teer, Nettie Faye Pierce (Wilson), Ken and Arlene Boyd, Lorene (Cox) Funkhouser, Tommy and Charlotte Madden, Dortha Vanderpol, Opal (Reese) Herrin, James and Dorothy Jewell Raasch.

Thomas and Juanita Raasch, Joe and Wanda Meyers, Lena Mae Zimmerman, Neville Hancock, Justin and Margaret Meissinger, Joe and Margaret Taylor, Joyce Brazil, Dessie (Reed)
Evatt, Lois (Smith) Jennings, Billie and Dorothy Nash, Howard Burk, Zelma (Miller) Hinkle.

Glen and Dorothy Neuwirth, Iven and Viola (Adams) Lindgren, Rayford and Ovella Farris, Ruby (Farris) Lanig, Dortha Smith, Jim Taylor, Joe Newton, Wayne and Geraldine Askew, L. J. and Helen (Henderson) Mink, Jack Haley, Jimmy Jones, Leland White.

Dean and Bell (Sommers) Reeder, Maxine (Mosley) Narod, Allen and Betty Moore, Ben and Glennie (Askew) Moore, Dwaine Hilbern, Alfred J. and Pat Miller, Jim Faulkner, Robert and Wanda (LaBerge) Randall, Max and Louise Courtney, Wanda (Johnson) Simmons.

Pat and Oma Buchanan, Archie and Carolyn (Randall) Wolfe, Eddie and Gayle (Askew) Prentice, Ned and Betty Callen, Bobby Reese, Vondella Jones, Opal Harrel, Claudine Raddon, James and Alice Faye Riley, Melody (Riley) Lee, Kim (Riley) Biberstein Mason and Devon; Leon and Jetta Neuwirth.

Lee and Norma (Block) Beisch, Delma Mace, Larry Riley, Bill and Bonnie Sims, Gwen (Baskett) Halverson, Bill and Mary Ruth Henderson, Pat (O?) Hestand, Dorothy E. (Carr) Clark, Phillip L. Sims, Nova (Henderson) Cox, Sue (Williams) Granger, James and Gale Swanson.

Mike and Donna (Liles) Hoepfner, T. R. (Tommy) and Sharon Liles, Johnny Newton, Johnny Gaskill, Lloyd Reeder, George and Betty (Sheets) Dixon, Kathryn (Sommers) Farris, Theda Jan Deaver, Bob Davis, Lonnie Riley, Judy (Parr) Quinn.

Eric and Kaye (Sheets) Jackson, David and Linda Lester, Bradley and Sue Johnson, Tom and Glenna (Faulkner) Rickey, Jim and Linda (Block) Files, Roger LaBerge and Tim, Rex and Sheila (Boyd) Brand, Cathy (Catherine Lee) Melton, Linda (Geis) Williams, Johnney and Joyce (Geis) VanDerPol, Lavoy Johnson, Dewayne Baskett.

Oscar (Buzz) and Barbara Casey, John Dale Casey, Don and Elizabeth Riley and Dana; Larry and (Bobbie) Hampton Liles, Judy (Gunter) Richey, Stephen Boyd, Donna (Baskett) Beyers, Coleta (Baskett) Bowen, Pauline Wells, Charlene McDaniel.

Chet and Pauletta (Liles) Maggard, Reta (Geis) Mickle, Jimmy Lou (Carr) Pollock, Carolyn J. (Files) Peters, Don Lester, Darla Jan (Reese) Dunn, James Fallon, Dana Reese, Mary Emma (Fallon) Rogers, Jim Sehl, James and Ann Jennings.

Harris Wayne (Chief) and Leticia Casey, Floyd A. and Gwen (Miller) Mace, Ann (Hearrell) Fink, Larry and Linda Stafford, Junior VanDerPol, Kathy (Boyd) Cacini, Tom and Denice (Baskett) McAskill, Terry, Tracy and Cody, Karen (Johnson) Mason, Pam (Raasch) Stanley, Reeder Reese, Anna Mae Sheets, Elizabeth Randall.

Ernest Smith (Bleiker), Samie and Pauline Geis, Louise (Welch) Fitzpatrick, Mary (Welch) Massie, Erma Welch, Iven J. and Betty A. Lindgren and Iven, Barbara Ann Lindgren, Loren and Fleda Lee (Henderson) Jennings, Billy Smith, Melvin Wilson.

Teachers present were Zed DeVaughan Jr. 1957-58; Bob and JoAnn Felton, 1958-63; Lena Rutledge 1969-73; Mildred and Leland Curtis, 1957-59; Mary Henderson, 1966-73; Reatha (Browning) Adams, 1944-46; Rod McDonald, 1960-62.


-by Louise Smith

Thursday, July 27, 2000:

Douglas and Johnnie Sears had quite a surprise Friday.
Their niece and nephew, Molly Jane and Jimmy Rogers from Monroe, Louisiana, stopped by for a visit. They had been to Cordell to a class reunion. Also their niece and nephew, Jan and John Ray Sears, from Cordell were there. Molly and John Ray are sister and brother.

-rc-

Sheri and Terry Wann, Jeff and Dustin, from Pawhuska, have been here visiting her parents, Sheila and Jimmy Pound, and her sister and family, Delinda and Alan Gibbons, Rachel, Heather, and Amber.

-rc-

Martin, Shirley and Glenda Terry and Mrs. Betty Hendry had Deniece and Nathaniel Chumley from Randlett visiting them. Deniece is a sister to Shirley and daughter of Betty.

-rc-

Bonnie Pickett and granddaughter Angel Pickett, of North Ridgeville, Ohio, left for their home Tuesday afternoon.
Bonnie had been on a mission trip to Pedras Negras, Mexico. She spent three and one half days with her parents, Perry and Louise Smith. When she arrived home she had driven over 4,000 miles and received a speeding ticket three miles from her house. She said she used her cruise until she left Angel at her house.

-rc-

Thursday, July 20, 2000

Bonnie Pickett and her granddaughter Angel Pickett, North Ridgeville, Ohio, came Wednesday to visit her parents, Perry and Louise Smity.

They cooked, cleaned and grocery shopped before leaving Thursday evening for Armore to visit her sister and brother-in-law, Merron and Geary McCormack.

On Friday Bonnie drove to San Antonio, Texas, to meet her church group and into Mexico where they take food and clothing and minister to the people. Angel will spend a week with her aunt and uncle.

-rc-

Johnnie and Douglas Sears had their son Dr. John Sears and their granddaughter Alexis Sears and her friend Emily Blaisdale, of Tulsa, for weekend guests.

-rc-

Ray and Barbara Lucas, Mountain Park, visisted Perry and Louise Smith on Friday afternoon.

-rc-

Floyd Hopkins, Mountain Park, and Odis Hopkins went to Mountain View Sunday afternoon to visit their sister, Dorothy Rybka.

-rc-

John and Paula Block went to Las Vegas Sunday June 25 to celebrate John's birthday. They returned home on Thursday and attended their grandson Chance Taylor's ball game in Hobart.

-rc-

Charlett Story visited Teresa Stoneking and her mother Hallie Lile in Frederick on Wednesday.

-rc-

Sarah and Samantha Bellinder ere honored with a birthday party Friday on their first birthday by their parents, Thesha and Matt Bellinder. They each had their own birthday cake. Thesha carried out the Tweety Bird theme for the cakes, napkins, plates, etc.

Attending were Jim Bo Compton, Fort Riley, Kansas; Della June Liles and Daniel Treadwell, Snyder; Elana Callen, Cache; Doug and Lisa Liles, Madison, Savannah and Kenya, Ned and Betty Callen, the honorees, their sister Brooke and Matt and Thesha Bellinder.

rc-

Kaylee Madison Carter was born June 30 in Jackson County Memorial Hospital in Altus. She weighed eight pounds, two ounces, and was 21 inches long. Her proud parents are Mandy Cole and Jason Carter, of Roosevelt.

-rc-

Visiting Delores Callen in Hobart July 4 were Della June Liles, Elana Callen, Thesha and Matt Bellinder, Brooke, Sarah and Samantha, Betty and Ned Callen and Doug and Lisa Liles, Madison and Savannah. They had home made ice cream and cake in the afternoon.

Additional guests to enjoy the ice cream and cake were Gerald and Nancy Downing and grandchildren, of Wilburton, and their son and family, Cliff and Mary Downing, of Tulsa. Nancy will be remembered as the daughter of Kensel and Dortha Lee Tucker, former Cooperton residents. Also visiting were Curtis and Judy Liles, Oklahoma City, and Callen Liles, of Altus.

(Reprinted from The Hobart Democrat-Chief, July 13, 2000)




Thursday, July 27, 2000

Pam and J. D. Taylor and Chance had a hamburger fry to honor her parents, John and Paula Block, on their 40th wedding anniversary on Saturday evening.

Those helping them celebrate were his mother, Velma Noske and her mother, Glenna Miller. Others attending were Jack and Betty Broadus, of Oklahoma City; Joe and Pauline Johannes, Lawton; Max and Kay Pufpaff, Cache; Carolyn Garrison, Lauren and Becky, Ricky Garrison and Gunner of Elk City; Peggy Troy, Goldie McClure and Leroy and Rallene Linstead, of Hobart.

Those from Roosevelt were Liz Block, Vera Miller, Jeff, Darla and Jamie Vanderpol; Shane, Karla and Mitch McLaury; Don and Kathryn Farris, and William Henson.

Darrell and Angela Block, Conner and Braden were on vacation and unable to attend.
BY LOUISE SMITH

THURSDAY, JUNE 15, 2000

Alfred and Velma Miller were accompanied by their daughters, Greta Miller, Clinton, and Kay Miller, Oklahoma City, to Lubbock, Texas, on Friday to visit their son and brother, Mark and Cindy Miller, Douglas, David, and Daniel.

On Saturday they attended Douglas's graduation ceremonies. They returned home on Sunday.

-rc-

Zita Miller, Oklahoma City, and a friend visited Glenna Miller on Monday. They had been to the Springhill Cemetery south of Cooperton to decorate the grave of Zita's husband, the late Glen Miller.

-rc-

Louise Smith received word on Friday that her cousin Betty Jo (Bay) Roach had passed away on Thursday.

Betty Jo had moved from two miles north of Cooperton when she was ten years old. She had visited the area many times since and has numerous relatives in the area.

-rc-

Charlett Story and Louise Smith shopped in Lawton Tuesday.

-rc-

Terri Henson and Glenna Miller went to Lawton Tuesday where Glenna kept a doctor's appointment.

Her leg is looking much better, and she is able to be up and around a little more each day.

-rc-

Brenda Hawkins, Gotebo, visited Perry and Louise Smith Wednesday evening.

-rc-

Sharon Raasch attended funeral services for her grandmother, Gladys P. Anderson in Snyder on Saturday.

-rc-

Everyone is busy plowing wheat stubble, planting cotton and mowing yards.

God was certainly good to the farmers in the area as over 13,870,000 bushels of wheat went across the scales at Good Pasture and Farmers Co-Op Elevators, and many have stored wheat at home. Now, if only the price would get better.

-rc-

Buck Cook celebrated his birthday June 4. His daughter, Debbie Hopkins, had a cookout for him at her home, and then they all swam in their new swimming pool.

Attending were the honoree, Buck Cook, his wife, Lou Ann, Gayle Miller and Chassity and Chris, Roosevelt; Stacy Miller, Edmond; Heather McCombs, Warren; and Debbie and Odie Lee Hopkins, Tanner and Haylee.

Odis Hopkins also attended, but Ruth was unable to attend as she wasn't feeling well.

-rc-

Copied from The Hobart Democrat-Chief, Thursday, June 15, 2000

___________________________________________________________

DANNY MARTIN KILLED IN TRAGIC ACCIDENT

Danny Martin, 44, Cooperton, was killed Saturday, May 27, in a tragic accident at the Goodpasture Elevator, Roosevelt. Details are not yet available, however, evidently he was operating a tractor pulling railroad cars when the tractor overturned.

Danny was the son of Jimmie and Carolyn Martin, Roosevelt. Services were at 3:00 Tuesday, May 30, 2000, at First Baptist Church, Roosevelt. He is also survived by son, Chris, and a daughter, Courtney Staggs, brother David Martin, Sentinel, and sister Penny (Martin) McCuiston, Indiahoma.

Pallbearers were: Joe Rutledge, Terry Jackson, Joe Housley, Reid Davis, Russell Johnson, Wesley Lamb, Dean Basket, and Johnny Starcher.

Honorary Pallbearers were: Wayne Barker, Mike Tyler, Richard Lamb, Raymond Muse, and Tommy Pruitt.

Interment was in Roosevelt Cemetery, Roosevelt, Oklahoma.
__________________________________________________________


RAMBLING NEWS & VIEWS

By Bernice Files

Burl and Lela Roddy have a new grandson. Joshua Maddey Roddy arrived June 8, 2000, at 4:45 a.m. and weighed six pounds, three ounces, and was 20 inches long.

Parents are Don and Marla Roddy, Yukon.

Joshua has one sister.

Grandma Lela spent the day with them on Wednesday.



--------------------------------------------------------------------------------


My allergy has turned into acute bronchitis. I'm allergic to so many things you breathe. I went to the fair barn to hear Reba McEntyre's sister Susie and her husband, Paul, sing and preach. Immediately the dust, hay, etc. started telling me I couldn't stay, so I sat over in the east door of the fair barn where I could still hear and even catch a glimpse of Susie and Paul now and then.

But the allergy had already been triggered and here I am taking some medicine, staying in the house, and drinking lots of fluids.



--------------------------------------------------------------------------------


There are some clouds rolling in today (Friday) so maybe we will get some more rain again soon. The wheat harvest should be over and the cotton and feed ready for another gentle shower. The last one was wonderful. I think every drop soaked into the ground.

Some of our Texas cousins had downpours. Hopefully their water shortage was eased.



--------------------------------------------------------------------------------


Today is Jody's birthday but I think we will wait till this bronchitis clears up before we enjoy a birthday dinner together. We may celebrate Fathers' Day and Jody's birthday with one good family cookout or dinner.



--------------------------------------------------------------------------------


Hopefully, Carolyn will be here for the Cooperton Reunion the fourth Saturday in July. She looks forward to seeing her Cooperton friends at those reunions. Maybe we'll see you there.

Like Roosevelt, it isn't an alumni get-together; it's for neighbors, family, and friends. So mark your calendar and come and enjoy the reunion.

Roosevelt's reunion will be the third Saturday in July 2001. We are meeting every two years now.

http://searchok.com/~cooperton

http://www.searchok.com/~rooseveltokalumni


--------------------------------------------------------------------------------


There are all sorts of kids' activities for the summer. It may keep mom, dad, grandma or even granddad taking turns getting them to the various activities.



--------------------------------------------------------------------------------


Copied from The Hobart Democrat-Chief, Thursday, June 15, 2000.