Cooperton High School students and teachers somewhere between 1938 and 1942. Nadean Wilder, Alfred Miller, Addie Lee Chambers. If you can name any of these, email wjackson@sonetcom.com listing names.
Roosevelt Elementary School Class about 1949 or 1950. Front Row L to R: Curtis Scott, Patsy Davis, Nancy Davis, Johnny Block. Middle Row: 2nd fr left Merle Berridge; 4th fr left Jim Law;
Back row: 3rd from left - Willie Fudge; 4th from left - Retha Mae Brooks; 6th from left - Paul James (Jim) Whitson

If you know the names of the students in this class, please email me wjackson@sonetcom.com - I will be glad to list them.

The 1957 graduating class included: Retha Brooks, Jim Law, Mary Bullock, Vera New, Tommie Jo Sorrell, Curtis Scott, Dorothy Sipe, Jerreda Tate, Albert Perkins, Edward Morgret, Mary Kimray, Walter Farrar, Shirley Scalf, Bobby Armstrong, Darrell Cooper, Correna Underwood, Nancy Davis, Patsy Davis, and Jeff Fleming.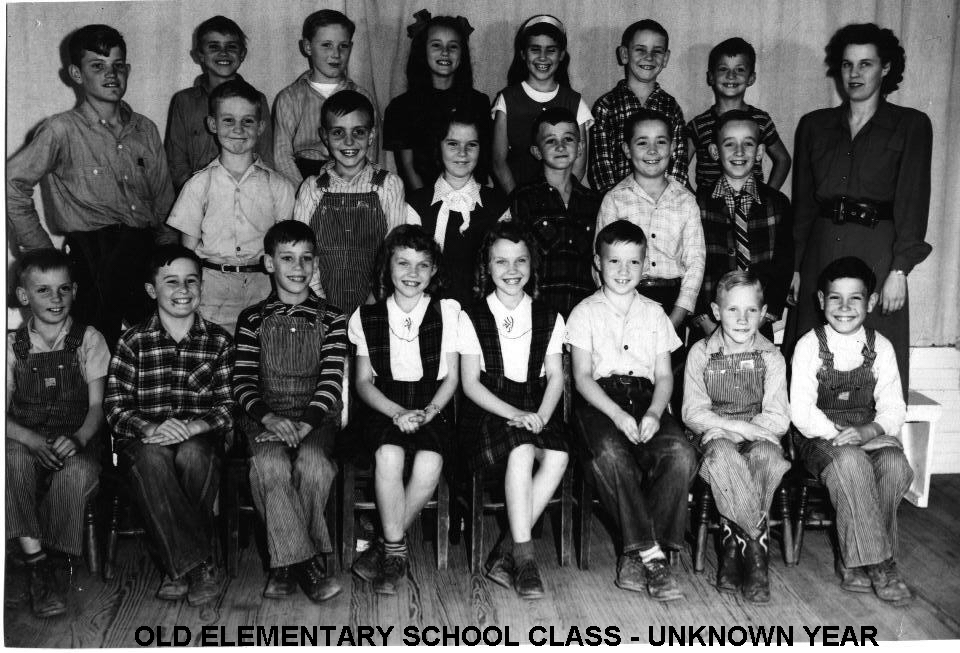 COOPERTON VALLEY REUNION - 1976

From the Files of The Democrat-Chief
JULY 28, 1976 - Neville's News

There never has been a reunion like the Cooperton Valley reunion of 1976. It was the first all-school reunion for the small community that lies in the beautiful valley surrounded by the Wichita Mountains.

Planning and preparing for this reunion was a great effort on the part of Allen Moore, Garland Chain, Dorothy Jewel Raasch, Paul and Delores Swanson, Kenneth and Arlene Boyd, Lonnie Riley, Ned Callen, Tip and Mabel White, LaVoy Jennings, Barbara Buchanan, Omalyn Buchanan and Weldon Johnson. They said they had lots of help.

It all started when Garland and Allen were planning a school class reunion, then it snow-balled from there.

I marvel at how they contacted so many people - some of whom had not been back to the valley in more than 40 years.

Dorothy Jewel Raasch said, "It was not easy, but seeing all these people here today makes me realize it was all worth it."

There were 477 meal tickets turned in, but many more people came and went during the day and evening hours. Delores Swanson reported 700 name tags were ordered and nearly all those were gone.

The old school bus barn has been converted into a nice air-conditioned room and that was a cool place to stay, but not for long, or you lmight miss seeing someone outside or in the old school lunchroom. That's where you could buy sandwiches and delicious homemade pie prepared by the ladies of the community.

There are a few spindly cedar trees left that offered a bit of shade, but people didn't seem to mind the heat because they were having too much fun.

Allen Moore explained how everybody had pitched in to get the two buildings and the grounds ready for the big day. There were carpenters, electricians, plumbers, people who mowed, cleaned and other tasks necessary in preparation for such a huge crowd.

Underwoods catered the evening meal, and there was order and little if any confusion.

Eura Armstrong came from Porterville, Calif. I believe he had more fun than anybody. He coached the debate teams when my sister Roma and brothers Lloyd and Jack were in school. He brought a photo album that was a treasure.

I believe all the Potters were there, the Patterson boys, Kenneth, Leora Jean and Clothide Stephens; Gus and Pauline Hill, Juanita Fink and three daughters, also the Hopkins, Smiths, Millers, Pierce boys and Barbara Davis Pybas.

Barbara and her husband, Jay, have five girls and one boy. Jay told me he knew Jack Reeder was in heaven because he had his hell on earth trying to raise five girls.

It was wonderful talking with Mrs. Grace Mosley's daughter, Alta Fern. She isn't a skinny little barefooted tyke anymore. She and her husband recently returned from Saudia Arabia.

I looked all day for Loretta Johnson Lindsey and perhaps we saw each other and didn't know it. I saw her sisters, brothers and her mother.

Maydell Marsh came, Troy Helm, Jimmy Faulkner, Johnny Earl Gaskill, the Liles boys, Tybo and Lois Powell, Lottie Mae Bottom, all of Aunt Clara Jennings' children were there.

Little Karen Dudgeon Benson was there. Gosh, I used to hold and rock her in church, and now she's all grown up with two little girls of her own. Roger, the daddy, seemed to be enjoying himself, even though he knew very few there.

It's too bad the Hawkins' girls could not come. Many people asked about them, especially some of Roma's old boy friends.

I wish Jilreth and Roberta Kopp had been there and Ted Davis and Bettie Buchanan. Glenn Jennings missed Johnny and Doug Sears.

Loren Jean Kopp and Joe Taylor found their school teacher Addie (Miss McDaniel) Reeder and told her they weren't angry with her anymore even if she did give them a spanking! DeLois Hopkins told her she still remembered the yellow dotted Swiss dress she wore the first day of school.

Former Cooperton school teachers attending were Eura Armstrong, Helen Dale, Cleo Davis, Bob Felton, Joy Ganoung, Addie Lee Chambers, Verna Lee Petty Glass.

Zella Mae Jennings Goodall, W. L. Jackson, Ed Huey, Leon Burges, Evelyn Madden, Lucille Hooker, Alcyone King Marsh, Glenna Hyde Miller.

Lela Mae Mitchell, Grace Mosley, Addie McDaniel Reeder, John B. Rose, Clemmy Wood Rose, Lena Rutledge, Mr. and Mrs. Henry White, Mrs. Bill Willis, Minnie Mae Scurlock Smith, Mary Henderson.

It was strange seeing the spot where the old school had been ever since I could remember. The school bell, which we could hear clear out to our house on a still morning, is neatly mounted and sits as proudly as the Liberty Bell.

Allen Moore did a nice job presiding during the business meeting. Chief topic was when to meet again. I thought Wayne Liles had the best idea - let the people who live in the community and have to do all the work decide when they "could stand us again."

Every four or five years was suggested, but some of the folks, whom I suspect thought they might not be around then, wanted to meet more often. A voice vote did not do the trick, so a count of hands was taken and the reunion will be held every other year, the 4th Saturday in July.

Red Liles was elected president; Johnny Vanderpol, vice-president; Jimmy Lou Jones, secretary and Peggy Johnson, secretary.

Miss Cleo Davis was presented an award for her many years of teaching; Bennie Moore gave a nice talk, also Barbara and Omalyn Buchanan, Weldon Johnson, Kenneth Boyd and Paul Swanson.

Awards were given Allen Moore and Dorothy Jewel Raasch in appreciation for their work.

Wayne Liles spoke and Delores Callen briefed us on history of Cooperton and its citizens.

Red Miller said he was so proud to be a product of Cooperton. When his Cameron basketball team passed through the town by chartered bus, he demanded one moment of silence, including placing the right hand over the heart.

In more serious vein Red recalled he was proud he was born in a community where citizens like Clarence Nash, (who gave his life), Wayne Liles and "little" Jack Reeder made such sacrifices during World War II.